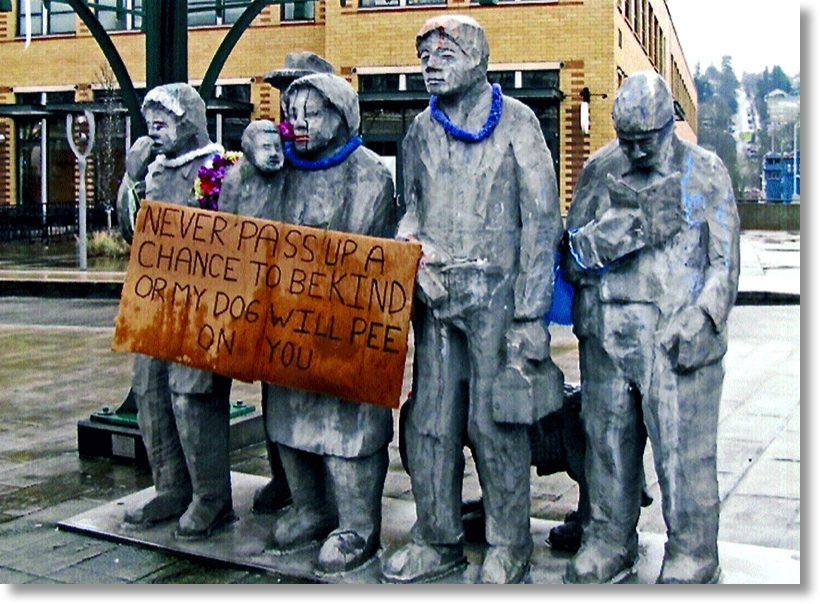 People Waiting for the Interurban
Seattle, WA residents and visitors are familiar with this well-known city icon. Rich Beyer created "
People Waiting for the Interurban
," in 1978 to help create a community identity and focal point for the redevelopment of the city's blighted Fremont neighborhood. This was Beyer's first large scale multi-figure cast aluminum sculpture and it become the center for the renewal of Fremont, the thriving, bustling, artistic community it is today. Local residents like to decorate it to make social statements or celebrate community events.

Enter this website to discover the wonderful works by this prolific artist who created PUBLIC SCULPTURES for Municipalities, Corporations, Playgrounds & Zoos, Schools & Colleges, and Libraries. Explore further to see some of his PRIVATE WORKS and learn about the life of Rich Beyer in the BIO section.


Richard S. Beyer
, Sculptor: Born July 26, 1925 in Washington, DC. Died April 9, 2012 in New York City.
"Art is seeing common things transformed by love, and the best public art belongs to the story of a community."
Between 1968 and 2006, Rich Beyer created over 90 large sculptures for public spaces in cities and towns, primarily in Washington and Oregon States, as well as in many other US towns and overseas. They all reflect the local lore and values of the particular area. His designs are simple and direct, using people and animals with expressively carved gestures to express interaction and stories.

Beyer used humor to affirm the human condition, making fun of things such as pretension or complacency. This is an art that will challenge ordinary assumptions, yet is totally approachable by young and old – an "art people love."