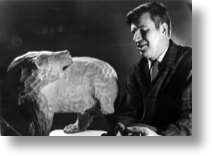 This biographical outline of
Richard S. Beyer's
life highlights the periods that laid the foundation for what would eventually lead him to become an artist.

The EARLY YEARS begin with Beyer's birth in Washington, DC, in 1925. This section goes through his youth, education, family-building, and efforts to establish a career in economics. In 1957, Beyer and his family moved to Seattle, WA, where he began to question his chosen career path and experiment with sculpture.
Birth

July 26, 1925



Richard Sternoff Beyer

was born in Washington, DC. His parents, Otto and Clara Beyer were both employed by the US Government under FDR, helping to create better conditions for American workers. They were both highly intelligent and dinner table discussions often revolved around issues of the New Deal. Rich had two brothers, Morton (b:1921-d:2010) and Donald (b:1923). The family lived in an historic house on a farm called Spring Hill, 15 miles west of DC in the hills of Virginia. As sons of parents who were involved in the idealistic and creative politics of the FDR era, the "Beyer Boys" had plenty of opportunity to be mischievous and adventurous, exercising their own creativity in sometimes shocking ways. The "Bad Beyer Boys" became notorious for their imaginative pranks.

Drawing: "Child Building a Sand Castle"


Rich and his brothers, Donald and Morton.
Drawing by: Dan Beyer (Grandson)


High School

1939-43 - High School



Beyer spent most of his high school years in a number of private boarding schools, none of which appreciated his creative thinking or his "day dreaming". His father promptly removed him from a Friends school in Pennsylvania after Rich produced a creative project where he constructed a working still that made a tiny amount of real whisky! He finally was transferred to Fairfax Virginia Public High School, where the principal took an interest in him and discovered that Rich was exceptionally well read. He graduated from Fairfax High in 1943.

Drawing: "The Dreamer Will Not Acknowledge the Paradoxicality of Life"

Drawing: "A Boy With His Dog"

Army

1944-46 - Army



Beyer was given the opportunity to attend the U.S. Naval Academy at Annapolis, but he was uneasy about a career in the armed services. He enlisted in the Army and was sent overseas to fight the Germans in Germany and France. His strength was a great help to his company since he was able to carry huge guns and equipment that no one else could lift. He developed a life long friendship with an older soldier who understood and delighted in Rich's poetic and philosophical bent.

Drawing: "The Dogs of War"

College

1946-52 - College



After serving in the Army, Beyer was ready for college but his grades were not up to university standards. The principal of Fairfax High School, knowing he was very bright and largely self-taught, helped get him into the University of Virginia in Charlottesville, VA. After one year Rich transferred to Columbia University in New York City. During his years at Columbia he fell in love with Margaret, a girl he had known from childhood. Finally, in 1952, Rich received a BA degree in Social Science from Columbia.

Family

1948-52 - Marriage and Family

Rich married Margaret Herriott Waganet, on October 9, 1948, at St. Albans Church (the parish church of the Washington Cathedral) in Washington, DC. A few weeks before the wedding, Margaret's mother died. In spite of their grief, the couple was encouraged to go ahead with the wedding. Shortly after they were married, Rich's father also died.

Rich and Margaret first lived in a small cold water 6th floor walk-up apartment in Greenwich Village in New York City. In 1950, thanks to the GI Bill, they moved into a small house in Levittown, Long Island, NY, just before the birth their first child, Elizabeth. In 1951 a second child named Otto was born, but tragically he died shortly after birth. In the next year, 1952, they rejoiced at the birth of Charles Sternoff Beyer. Their marriage lasted 56 years, until Margaret's death in 2004.

Drawing: "Mother and Child in the Surf"

Jobs

1948-55 - Employment and Further Education

During this period of transition, education and family building, Beyer worked at a variety of uninspiring jobs: office boy, asphalt laborer, senior test engineer and flight test technician. None of these jobs used his intelligence but they often required his strength and technical know how.

During 1954-55, Rich and Margaret took a year off from the New York grind to attend Putney Graduate School in Putney, Vermont. They took their children and spent the year studying education and Rich got a job as Instructor in Science at Windham College. In 1955 they both earned Masters Degrees in Education from the University of Vermont.

Research

1955-57 - Economic Research



Back in Levittown, Beyer went back to work in New York City, this time for the Bureau of Economic Research. He carried a briefcase to work that he painted gold to prove (to himself) that he was part of the Manhattan economic scene. While at the Bureau, Rich became acquainted with a University of Washington professor, Dr. Douglas North, who was doing research for a book. North took a liking to Beyer and encouraged him to consider further study. As a result of the encouragement of Dr. North, Rich decided move to Seattle and work on a PhD in Economics at the University of Washington. In the summer of 1957, the family packed up and drove cross-country to begin a new life in Seattle. Margaret was looking forward to becoming a professor's wife.

Drawing: "Goodbye to the Street Singer"

"It Won't All fit in the Car"

Seattle

1957-63 - Seattle, Washington

The family settled down to life in the vibrant and growing city of Seattle. While studying and working on his dissertation at the University of Washington, Beyer begin to carve small toys for the children. He went to the University Bookstore and bought carving supplies and started to create small sculptures. He finally decided academia was not for him and he quit the program and went to work for Boeing Industries as an engineer. This lasted a few years, but the work was boring so he sometimes had little to do and spent time carving totem poles out of pencils. Boeing's plans to make more war machines were against Rich's growing anti-war sentiments. He finally left gainful employment to experiment on sculpture. Margaret had recently gotten a teaching job at the Helen Bush School in Seattle. This helped support the family while Rich worked on establishing his art career.

By 1963, Richard S. Beyer began showing small sculptures in a Seattle gallery. They sold well and he was attracting the attention of people in Seattle, especially an architect named a Fred Bassitti. Rich created so many artworks they ran out of room in their home, so what was not sold, he often gave away to grateful friends. This was the year Rich began to experiment with large-scale works. It began with "The Peace Wolf

," built from large pieces of cedar driftwood found on an ocean beach in Washington State. It's posture of looking to the ground instead to snarling was to show the inherent peaceful nature of a feared creature.

"The Peace Wolf"

was sold to a local family, and thirty years later, in 1994, they requested it be cast into bronze, which it was.

Drawing: "Have to do It All Over Again"

Drawing: "Dragon Breath's Fire"